Update Shared Links
You can now update an existing or new link from Reporting or Feed.
On the Reporting page, find your link and select Edit in its action menu. From Feed, select the gear icon in the bottom-right the link's Feed card and select Edit Settings.
In the Share wizard, click the File tab and then select Add to open your projects and assets.
Drag and drop assets to add them to the link. To remove an asset from the link, hover it and click X.
Note that assets from a watermarked project cannot be added to a public share link.
General Improvements
You can now drag to select multiple assets or folders in list view as well as in gallery view.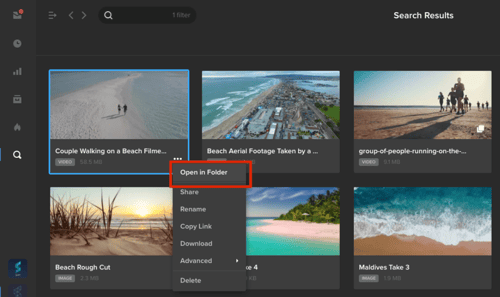 You can now open search results in their folder location. Once you've used the search bar to drill down to the asset(s) you need, open the action menu on an asset. Click Open in Folder to go to that asset's location.
UX improvements to Spotlight sharing workflow.